Corinium Care's free induction and training courses for new carers are second to none. We also provide regular refresher training for all our carers.
The induction and training courses run from Monday to Friday at our offices in Gloucestershire. To be accepted, carers must first complete an online application form and go through a recruitment process to review their suitability for a caring role. If considered suitable, they are then invited to join us.
The five-day courses include moving and handling, First Aid, how to cope with dementia and an introduction to what is required of a carer. Carers are also interviewed and assessed as to their suitability to work as a carer during this period.
Whilst with us, applicants are asked to complete a number of questionnaires and scenario tests to assist the Corinium Care team in understanding more about each new carer's approach to the caring process and whether they are suited to carer work.
It is quite an intensive course and homework is given out each evening. We also use the training week to complete any paperwork including an enhanced check with the Disclosure and Barring Service.
Before you arrive
We recommend that you reserve your place on a training course before making any travel arrangements.
We also suggest that carers coming from overseas allow at least 48 hours' travelling time before the start of the course which allows a weekend to acclimatise and organise any last-minute travel and paperwork.
Fitness requirements
Because the training includes moving and handling and First Aid which are both very physical, it is important for live-in carers to be relatively fit.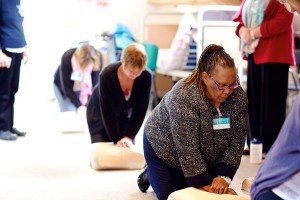 Practical tasks which form part and parcel of a carer's job include kneeling on the floor and getting back on your feet with ease – you must feel comfortable in your ability to do this. You are required to sign a disclaimer stating you have no serious back problems and that you are not pregnant.
These are both essential sections of the course, and failure in one or both modules will result in a carer not being put forward for work.
Training course dates:
The training course dates for 2018 are as follows:
January 8 – 12
January 29 – February 2
February 19 – 23
March 12 – 16
April 9 – 13
May 14 – 18
June 11 – 15
July 9 – 13
August 13 – 17
September 10 – 14
October 15 – 19
November 5 – 9
November 26 – 30
These dates can be subject to change, so please contact us to check before booking a place.
Accommodation whilst you're training
We work with a number of very friendly local B&Bs which offer reasonable rates for carers during our training week.
Once your training place has been confirmed a member of our recruitment team will forward further details of who you might wish to contact to arrange accommodation.
Throughout the training week, food is provided for all our trainees by Corinium Care's excellent outside caterers. If you have any specific dietary requirements, please try to let us know in advance.
And finally . . .

Please note that the course is conducted within office hours and is relatively intensive and there is therefore little time to take people to the bank to open an account, or to top up on talk time for mobile phones, etc. So it's a good idea to get such tasks sorted out before you arrive.
To fill in an online Carer Application Form, click here. For further assistance please do not hesitate to call the recruitment team on 00 44 (0)1453 839731 or your local representative on the number at the top of this page. You can also visit our UK website.
Check out the Carer faqs on this website.