The duties of a Corinium Care live-in carer very much depend on the needs of the client. But they are on hand 24/7 to help with personal care such as washing and bathing, do household duties such as cooking, cleaning and shopping, and help make their client's life as rich as possible. Sometimes the job of a caregiver might involve walking the dog.
Most of all, carers are always there to provide companionship and peace of mind. Their job is to encourage their client to be as independent as possible, while ensuring their safety and wellbeing.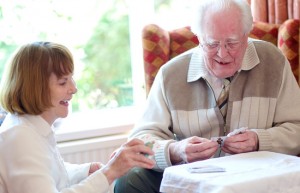 Carers are expected to look after clients with the same compassion as they would a member of their own family by helping them perform the activities of daily living.
To fill in an online Carer Application Form, click here. For further assistance please do not hesitate to call the recruitment team on 00 44 (0)1453 839731 or your local representative on the number at the top of this page. You can also visit our UK website.